Success 
stories
What to expect from training with us!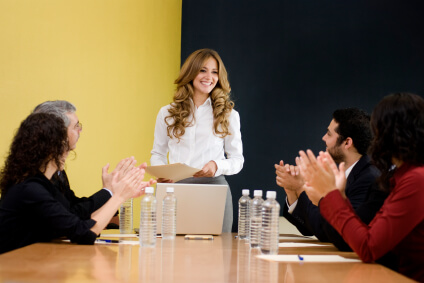 Reviews and Success Stories
What can you expect to get out of speaker training from MillsWyck Communications?
Here are reviews and what some of our clients have said . . . .
I have a minor in Speech Communications that was earned by taking 60 hours of college level courses.  That college level training didn't come close to the practical skills I learned from Alan Hoffler's Speaker Circle training at StepUp.  I feel more comfortable and competent making presentations as a result of his training.  I know I better represent StepUp and its mission when speaking to groups.  And I have watched the entire Speaker Circle group transform their presentations from a series of "uh" and "so" to compelling and memorable stories. Without exception, I would recommend Alan Hoffler's training workshops to anyone seeking improvement of their presentation skills.
Linda Nunnallee, Executive Director, StepUp Ministry
Alan is an engaging speaker and teacher with a compelling message: anyone can be a good communicator. Alan helped our team recognize the power of effective communications in everything from an email to a formal presentation, and armed them with practical ways to be better communicators in business and beyond.
B.G., Senior Communications Specialist, International Development Group, RTI International
The most immediately impactful training I've ever been a part of. I walked away not only knowing what I needed to do to improve, but already having worked two days on improving it–and succeeding at presenting better. I should have had this training when I was 15 or 22. I shudder to think of how I could have been better for myself and others had I been trained like I am now.
B.V., Director, Twin Cities Metro Director, FCA
I attended the Storytelling Workshop led by Alan Hoffler…it was one of the most entertaining and educational workshops I have ever participated in. I walked away with about 15 story topics/outlines in three hours. I wish it ran another 4 hours to write and practice. I highly recommend it for any level speaker.
T.M., Executive Director, John Maxwell Team
Alan has worked with my graduate students in the NC State University Global Luxury and Management dual master's degree program for the last eight years teaching them to develop superior oral business communication skills. His expertise, unique approach to learning, student rapport and consistency are highly valued by myself and students. Both students and alumni of my program consistently attribute some of their key graduate school learnings to the skills they develop in Alan's sessions.
K.M., Director, Global Luxury and Management, Poole College of Management, NCSU
I have been fortunate to work with Alan on several occasions and have always found his support to be exactly what I needed. His classes are outstanding and I recommend them to anyone who speaks for a living. The content is excellent and the classes are not only powerful but fun. Recently, I asked Alan to coach me in the writing of an important speech. He was not only supportive and generous with his time, but he also has amazing insight. His guidance helped make my speech much more powerful than anything I could have written on my own. Thanks Alan!
Stephanie McDilda, Flashpoint International
Attending MillsWyck Communication's 2-day workshop on Powerful, Persuasive Speaking was more important to my feelings of confidence and overall success than I realized when I first signed up. In just two days, I learned and practiced skills that allowed me to take my upcoming Key5 speech from good to great! I felt confident and came to understand how I could make my message really shine.
Sally Orcutt, Stretch 4 Success, LLC
I never would have delivered my content at the pace or with expression as I did had it not been for your class.  I was nervous walking on stage as the CEO introduced me, but in that moment I recognized I wasn't as nervous as I could have been.  I never would have felt as confident and comfortable speaking that morning if it had not been for your class.
Julie Bray, Virginia Women's Center
I have been a public speaker for more than 25 years.  I majored in communications in college, and have studied it and practiced it ever since. Alan's class was transformative.  He took what I knew and moved me to a whole new level of skill even after decades of work.  I highly recommend you take Alan's classes in presentation skills.  If you're scared, he'll get you comfortable.  If you're okay, he'll make you good.  If you're good, he'll make you great.  He even has follow-up classes to keep your skills fresh. Toastmasters has nothing on Alan!
Craig Mathews, Big Think
If you make an effort to apply the techniques this course provides, you will differentiate yourself as a leader.  To me, leadership is a necessary component of "success." 
Gail Douglas, Red Hat
THANK YOU! I have honestly had no less than 15 employees tell me today that you were the best speaker in our four years of holding planning sessions. We had high expectations and you delivered. Your message was clear, applicable and you delivered it in a fun and insightful way.
Dan DeLeo, Chief Operating Officer, Pool Professionals of the Carolinas, Inc.
I moved from chaos in organizing speeches to having a simple structure. 
George Alwon, Raleigh Consulting Group
I attended Alan's 2-day "Powerful, Persuasive Speaking" workshop. Wow. I've taken several very good public speaking courses in the past, but Alan's class brought it all together for me. It made things click. It was like watching magic as Alan coached the participants—every single person improved dramatically. And the skills taught benefited not only formal public speaking, but interviews, meeting facilitation, and everyday conversations. I highly recommend Alan Hoffler and MillsWyck Communications to experienced speakers, novice speakers, and everyone in between. I look forward to more coaching from Alan in the future!
Karin Wiberg, Clear Sight Consulting
If you're ready to significantly improve your speaking/presenting/Q&A skills, you won't be disappointed.
My skills improved much more than I had hoped for — thoroughly enjoyed the class and my self confidence in front of a crowd has improved dramatically as a result of it.
Connor Bernstein, Connor's Kits for Kids
An absolute for anyone looking to excel in their professional or personal life.
Julie Abbott, 3DimensionED
If you have difficulty speaking or are comfortable speaking, you will find great value in this class.
Melissa Proffitt, Adaptive Aerospace Group
This is an investment into your ability to influence people. You cannot begin to quantify the R.O.I.
Trent Pierce, Carolina Benefits & Planning
Find the two days and the funds to attend this (Powerful, Persuasive Speaking) workshop. The learning is intensive and practical. You'll leave with concrete actions for self-improvement.
Keith Hayes, Hayes Writing
This is a life changing opportunity. Life is communication. The better and more effective our communication the greater chance to make a difference with our message.
Mike Woods, Wake Christian Academy
Do it! I learned more in two days than I ever imagined.
Deirdre Reid
Essential for your personal development. Do not fear the class. The atmosphere is very open to learning in a low stress environment.
Rick Randazzo, Fellowship of Christian Athletes
It was life changing. The most important class I have ever taken.
Christine Alexander, Write-Strategy
I just spent 2 terrific days in Alan's seminar Powerful Presentations.  The class was packed with information, practice sessions and hints that have already made a more effective presenter.  Highly recommend that anyone spend the time – his methods and material are top notch.
Jeanne Allen, VP, Programs, ASTD
About a year and a half ago, I decided it was time for me to address my issues with public speaking.  I don't know of a more important skill to possess, and yet I was woefully undertrained.  Throughout my career I have had lots of opportunities to speak in front of people, whether it was my team at work, or even to a room full of people at a conference.  I never enjoyed it.  I wasn't very good at it.  Something needed to change. My options at the time were to join a Toastmasters group or find someone to help me.  As I was considering my options, I met Alan Hoffler.  Alan is the CEO of Millswyck Communications, a professional speaker training company here in Raleigh, NC.  Alan and I met for other reasons, but I really liked his energy and how he presented himself.  I wanted some of what he had.  Alan teaches an introductory two-day workshop called "Powerful, Persuasive Speaking."   It is….
Read more of this personal testimony on Scott Barstow's blog post here.
Scott Barstow, CEO/Founder, Rocket Hangar
While I've spoken to small groups dozens of times, I felt extremely unprepared for my first keynote addressing 250 people at a major regional conference. Luckily, I'd heard great things about Alan Hoffler and was able to reach out with enough time to hit a home run with my audience. With Alan's help, I received "favorite session" (out of 30 speakers) from nearly 48% of attendees. The feedback I received from the audience was exactly what Alan prepared me to deliver. I would consider myself to be a confident, capable speaker, but Alan took my years of experience to an entirely new level in only a few weeks. Now I'm prepared to take on the big speeches with ease! I highly recommend Alan Hoffler for one-on-one coaching, and would encourage anyone to attend his Powerful, Persuasive Speaking workshop.
Heather Allen, www.HeatherAllenOnline.com
The case presentation coaching with Alan has been simply amazing. He made us think creatively to come up with innovative ways to do our presentation. His presentation focus on emotions rather than technical aspects of the presentation was received well by the team. I could say with confidence that his influence on our presentation is going to be a huge positive for us in the case competition.
MBA student, NC State University