personal  
coaching
You have what it takes, let us show you how with our public speaking coaching!
Personal Coaching for Public Speaking Skills 
You have what it takes — we can show you how with our one-on-one public speaking coaching!
Anyone can learn to deliver their messages with greatness. It just takes the right tools and practice. Our coaching for public speaking and presentations gives you those tools, along with the hands-on practice and feedback that enables you to tap into your inner leader.  We provide Managers, Conference Speakers, Team Leaders, Community Leaders, Teachers, Employees, Club Officers, Clergy, Business Owners, and Executives (to name a few!) the tools and skills to influence the world around them.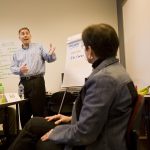 People with effective communication skills become true leaders and get results. As a leader in your organization, your job demands that you be able to communicate your ideas with your staff, co-workers, members, students, or audience and be able to motivate them to get the job done.  Whether you are in leadership today or feel that some of your communication skills are holding you back from reaching your full potential in your career, our customized coaching programs can give you the skills you need to deliver clear, concise, and compelling messages that will move you and your team forward.
Your excellence in leadership depends on your communication skills.  Coaching and proper habit change will get the results you want.
Public Speaking Coaching will give you the tools to . . . .
speak with ease

speak with confidence

engage your audience

deliver clear messages that get results

motivate and relate to your staff or members

promote excellence among your team

create and deliver content appropriate to any audience

develop content that wows your audience every time

use techniques to fill any time slot, even on the fly (ALWAYS end on time!)

develop a quick and easy to use rubric for all of your presentations and future talks

leave your audience with great takeaways
Coaching Packages
DIAGNOSTIC
Virtual review and feedback on short presentations, PowerPoint slides, and videos.  Perfect for those needing direction and recommendations on what to do to make their message great.
POLISH YOUR PRESENTATION
One-on-one coaching for public speaking and preparation for those who already have a professional or conference presentation and some delivery knowledge, but wish to make sure their performance matches their message and intent. Perfect for sales and business professionals, executives, and conference presenters wanting to take it to the next level.
PREP AND POLISH YOUR PRESENTATION
For those who have yet to develop a core message or presentation, this includes full scripting as well as one-on-one coaching in delivery and interactive components.  From zero to hero in the presentation world!
SHARPEN THE SAW — GREATNESS PACKAGE
Intensive, ongoing, and customized presentation preparation, coaching, evaluation, and training for the serious executive or professional presenter who wants to become a superstar!  Involves regular coaching and intensive prep for high-stakes corporate presentations and keynotes, as well as general communication and speaking in everyday work and life.  Maximize your message and your influence!
VIRTUAL PUBLIC SPEAKING COACHING
With our online coaching tool, you can gain the advantage of any of our public speaking coaching packages from the comfort of your home or office. We can take your videotaped presentations and give you the feedback you need in a frame-by-frame analysis. You get the same first-class coaching using our cutting-edge analysis tool and a combination of online chats, telephone conversations, and Zoom meetings to meet your needs — and your schedule! 
While I've spoken to small groups dozens of times, I felt extremely unprepared for my first keynote addressing 250 people at a major regional conference. Luckily, I'd heard great things about Alan Hoffler and was able to reach out with enough time to hit a home run with my audience. With Alan's help, I received "favorite session" (out of 30 speakers) from nearly 48% of attendees. The feedback I received from the audience was exactly what Alan prepared me to deliver. I would consider myself to be a confident, capable speaker, but Alan took my years of experience to an entirely new level in only a few weeks. Now I'm prepared to take on the big speeches with ease! I highly recommend Alan Hoffler for one-on-one coaching, and would encourage anyone to attend his Powerful, Persuasive Speaking Workshop.  — Heather Allen, www.HeatherAllenOnline.com
Alan Hoffler has been the most popular trainer we've ever had. Many of our staff have called me immediately after completing communications training with Alan to say how much they learned from him and how much they enjoyed his training. Alan's energy, his wit, his many experiences, and his ways of directly involving our staff during his presentations make for truly fun, effective, and memorable training. We highly recommend Alan. — D. Clark, VP Field Minstry, FCA
The case presentation coaching with Alan has been simply amazing. He made us think creatively to come up with innovative ways to do our presentation. His presentation focus on emotions rather than technical aspects of the presentation was received well by the team. I could say with confidence that his influence on our presentation is going to be a huge positive for us in the case competition. — MBA student, NC State University
Call us for more information on how Personal Coaching can make you shine on the stage and differentiate you in the marketplace!