speaker
alan hoffler
Keynotes. Conferences. Workshops.
Keynotes / Conferences / Workshops
Alan Hoffler, Speaker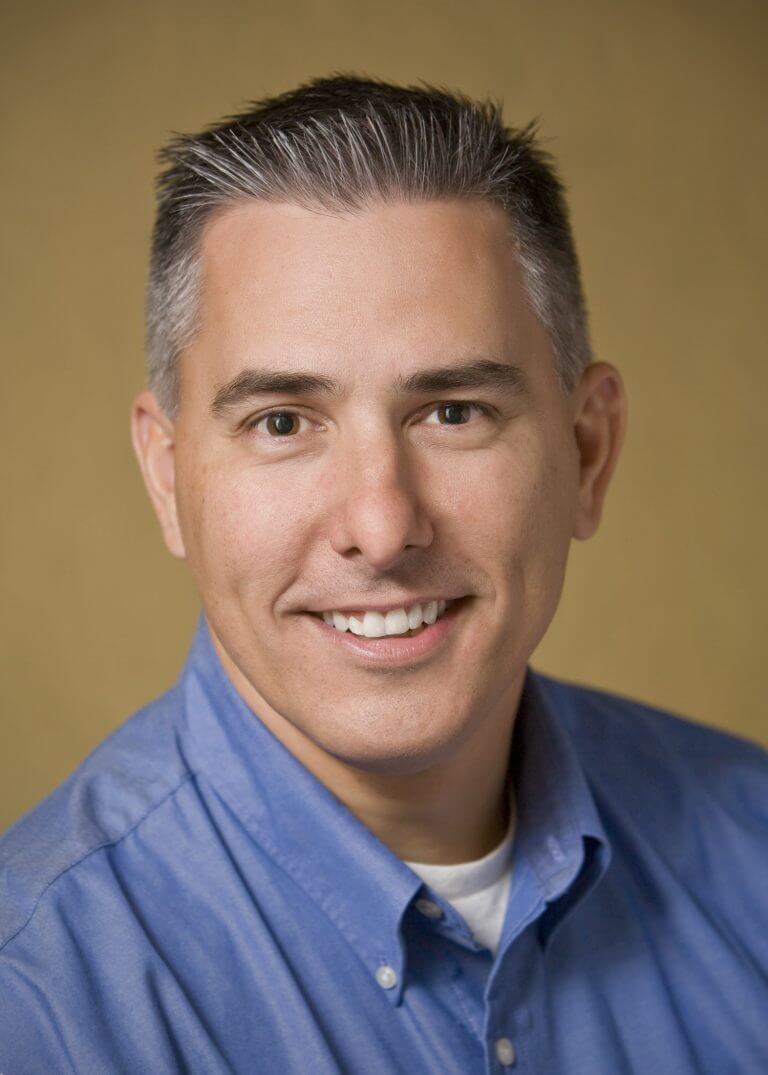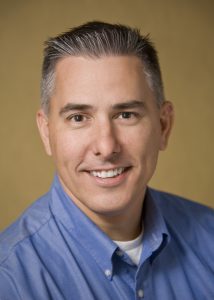 Speaker Alan Hoffler, founder and director of MillsWyck Communications, is an accomplished keynote speaker.  He uses the skills he teaches to craft authentic, custom messages that energize and motivate audiences.  He causes audiences to think, feel, and re-commit to excellence.  Alan believes excellent communication can change a person, an organization, a community, and the world.
GREAT speakers get opportunities that ordinary speakers don't.  In his Keynote series, Communicating with Excellence, Alan will show you how communication opens doors in your world and how YOU can be an insanely great communicator!
For Meeting Planners:  Downloadable headshot  
SPEAKING TOPICS — Communicating with Excellence
We train our clients to develop presentations to fit any time slot and we practice what we preach!  Any of these topics are available in 30-minute, 60-minute, 90-minute, half-day, and full-day formats, and may be presented as a keynote speech, training seminar, workshop, webinar or conference breakout session.
Signature Keynotes:
Winning Communication – Strategies to Connect and Convince
We know the rules of soccer, baseball, chess, and Monopoly.  Even hiring practices and the cultural conventions of our organization are played with regulations we understand and accept.  But what about communication?  Meetings. Emails. Presentations. Written content. Blogs. Letters. Pitches. Status updates. Family dinners. How do we win in these highly competitive environments with so much on the line?
In this fast-paced and example-filled presentation, come discover and apply the three critical principles that will impress any audience.  With immediate applicability to presentations, content marketing, lectures, emails, voicemails, training, and personal conversations, you will find yourself uncovering new ways to use communication for impact.  Speaker Alan Hoffler will lead you on a journey that includes the world of college math, medicine, annual reviews, summer camp, and the Gettysburg Address to show you how to create and deliver messages that will ring in your audiences' ears and have them talking about your message long after you have finished.
Presentation Sin: The Practical Guide to Stop Offending (and start Impressing) Your Audience
Based on his book by the same title, speaker Alan Hoffler identifies the standards by which all presentations and speaking are judged. Yes,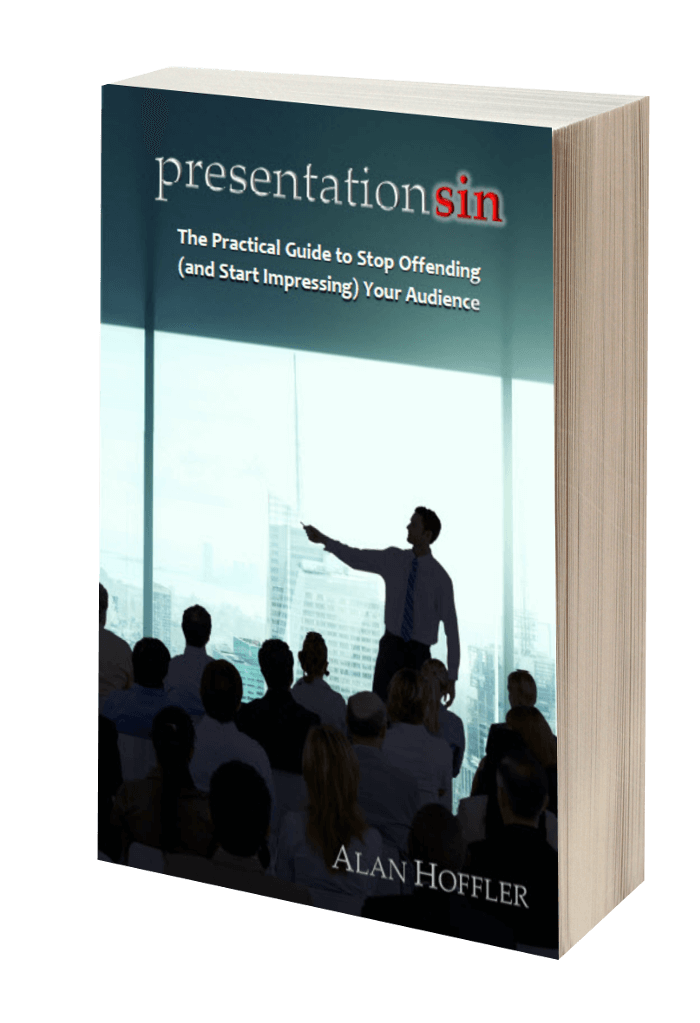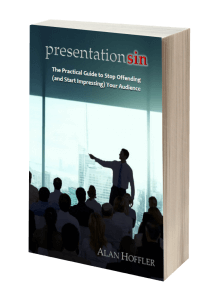 there IS a standard. Presentation sins are being committed every day. Presenters are violating the standards in management meetings, sales presentations, job interviews, one-on-one conversations, and keynote speeches everywhere. Speakers don't even have to know they are offending to be guilty of it. Come take a tour with Alan on the basics of presenting that no one ever bothered to teach you.  You will see how simple changes can make you a rock star on the stage.  In this humorous and example-filled session, you will recognize yourself and others and find the way to developing skills that will make you stand out among your peers. All the while, Alan will demonstrate the techniques he is teaching, and inspire you that anyone can be a competent and effective presenter.
You will never think of speaking the same.
Why Modern Business Communication is Killing Productivity (and what you can do about it)
You get them every day by the tens, hundreds, or maybe thousands.  You attend them every week in chunks, sometimes for multiple days at a time.  You participate in dozens every month.  You sleep through them, make fun of them, and try to avoid them.  This ubiquitous enemy is business (mis)communication — in the form of emails, text messages, voicemails, meetings, webinars, bad slide decks, drop-in visits, and conference calls.  All of these messages come at a cost.  When your communication is overloaded and ineffective, that cost rises and your productivity suffers.  It erodes profit, time, good relationships, and satisfaction.  But it doesn't have to be this way.  Join speaker Alan Hoffler to discover the keys to effectively using different communication channels in your own organization to save you time, boost your bottom line, and set your organization back on the path of efficiently reaching your goals.
The Four Questions:  How to Win at What Matters
Everyone wants to have success.  In our career.  In our relationships.  In keeping our bodies and habits healthy. In our competitions and our hobbies.  In what we give back to those around us.  But whether we lack the motivation to start, the power to stick with it, or the joy in finishing, there are plenty more people who want success than those that actually achieve it.
But it's really not that hard.  Most of us have been chasing the wrong goal and ending up with results that leave us – and those we could have impacted – short-changed.
In this fast-moving and example-filled keynote, the Four Questions will entertain and challenge you to make the changes that will give you true success.    Borrowed from the world of athletic coaching and applied to life, the answers to the Four Questions have the power to get you started on something new, put a new shine on a current endeavor, and provides the motivation to finish a task that seems too daunting to complete.  The Four Questions have changed coaches, teachers, sales professionals, clergy, managers, business owners, non-profit volunteers, community servants, elected officials, doctors, lawyers, truck drivers, dishwashers, stay-at-home moms, speakers, and speech coaches.  These principles changed my life and they can do the same for yours.
Confront your destiny to reach your greatest achievements by inviting the Four Questions in to transform your organization today.
The Silver Bullet: The One Skill Every Communicator Should Use
Whether you're a hesitant speaker or a communicator who wants to be GREAT, this session will teach you a valuable and easy-to-learn technique to captivate your audience. In addition to learning about the Silver Bullet, you will practice and apply it to your message, whether it's a technical work presentation, a networking event, a sales/persuasion situation, or your online content marketing plan.  The Silver Bullet can apply to most any situation, takes relatively little preparation, and is used by the masters of the stage and the pen in just about every forum imaginable. You'll find ways to immediately put this weapon in your toolbox and WOW your audiences and readers and have them ready to listen to your pitch, platform, paper, or presentation.
Behaviors of Rock Star Trainers
What separates you as a trainer? What defines a rock star trainer? Everyone has been to a bad training class and YOU don't want to be THAT person! In order to capture any audience, it's important to immediately show that you are different. In this session, you will discover three critical components to phenomenal training delivery and how to leave your audience with memorable messages.
With immediate applicability to lectures, presentations, and formal training sessions, you will find yourself discovering new ways to showcase your training delivery skills. Alan will lead you on a journey that will show you how you can bring powerful delivery to your training and include messages that will ring in your audiences' ears.
Sound Like You Feel: How to Express Passion When You Speak
When it comes to selling — your product, your ideas, yourself — we often fail to convince others of the passion and commitment we feel inside.  Since passion, confidence, and enthusiasm are inferred from our actions, it is crucial for speakers to SHOW these critical components and not rely on an audience to INFER from our content or implications.  Sadly, many motivated and passionate speakers fall well short when it comes to convincing audiences of the importance of their message.  The results are misunderstanding, loss of buy-in, and missed opportunity.  In this fast-paced and interactive talk, participants will learn the two principles of expressing passion and the key secret to making others BELIEVE.
Mad Libs for Business: Quickly Create Content for ANY Presentation  
Creating presentation content for any audience that engages and emotionally connects with them isn't always easy.  Even (especially?!) those with great knowledge, expertise, and passion about their topic often struggle to create and deliver clear, concise messages that really move their audience.  Learn how to rapidly produce engaging content for presentations, workshops, meetings, and client engagements.  Learn an eight-step technique for producing ANY presentation.
6 Steps Forward:  Every Man Matters
Change is inevitable. Whether it's that big move, a job change, the midlife crises, empty nest, or finally reaching retirement, life is a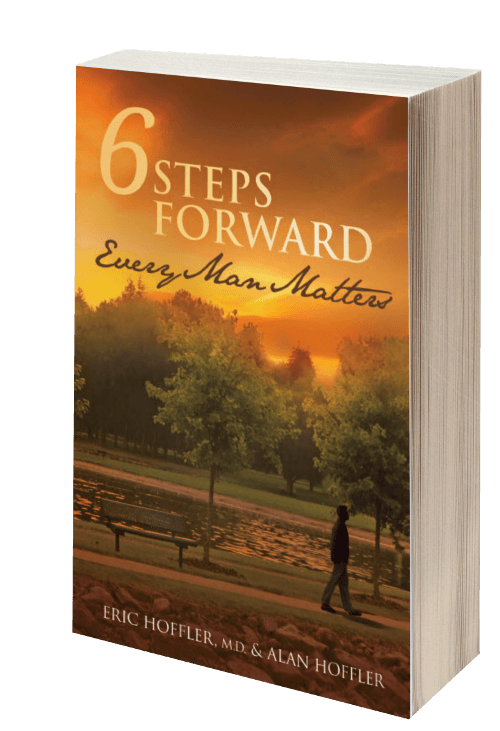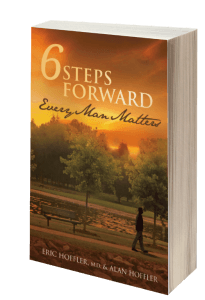 journey through transition points.  The change points are expected and predictable; our response to them is not.  When we find ourselves in places we didn't expect, frustration, depression, and inefficiency result.
Based on their fictional book that feels like real life, join brothers Eric & Alan Hoffler in a story-filled and introspective look at how we handle change, and the steps required to transition gracefully.  You'll be driven to discover a new purpose, and the path it takes to get there.  If you need a half day of inspiration or someone to lead your multi-day retreat, the timeless truths of 6 Steps Forward will give you the hope and motivation to make the next step your best steps yet.
 The truths of 6 Steps forward are appropriate for civic and faith-based groups looking for a boost to build community and purpose. They can also be adapted to your corporate setting to prepare for large changes within an organization.
Read the bio of speaker Alan Hoffler or contact us today to discuss how your next event can be completed with an engaging and inspiring keynote speech or to get a reference who can speak to the value they received.
Communication through the written word is where my talents lie. However I know that some of the most impactful marketers (and business professionals) not only write compelling material but also present it flawlessly. I attended Alan's session, 'The Silver Bullet: One Communication Skill Every Communicator Should Use' at the Triangle American Marketing Association's High Five Conference to learn and improve upon my speaking skills.  This interactive workshop put the onus on the attendees to get up and speak with minimal preparation. Alan made this session fun and engaging while reducing the intimidation factor of public speaking.  The Silver Bullet definitely impacted how I will approach writing projects and speaking opportunities in the future. I highly recommend attending one of these mini-sessions, even if you're not an aspiring public speaker!  S. Gallina, Centerline Digital
Thanks again for a great training last week. It was definitely the highlight of the week and I know that everyone took some things away that can help them better communicate and present. I still cannot believe how you kept this group engaged and attentive for 3+ hours!  VP at Workplace Options
GREAT job today! THANK YOU! I have honestly had no less than 15 employees tell me today that you were the best speaker in our four years of holding planning sessions. We had high expectations and you delivered. Your message was clear, applicable and you delivered it in a fun and insightful way.  Dan DeLeo, Chief Operating Officer, Pool Professionals of the Carolinas, Inc.
Alan Hoffler spoke to the IABC NC chapter on the topic Gold Medal Communications. It was a great session and we received positive feedback from our participants, who said they got a lot from the session – learning practical tips they could implement right away. Alan was engaging, informative and also very flexible.  D. Brady, VP Professional Development
I recently attended a seminar held by Alan Hoffler, Executive Director and Principal Trainer with MillsWyck Communications in my local networking area called "Becoming a Better Speaker – Quickly! Getting Rid of Um's and Ah's the Easy Way!" What an exciting, invigorating, informative and FUN two hours. The class overall was an enjoyable experience… Read more.  S. Shannahan, VA Business Help
"Very Engaging, great information presented in a humorous, fun learning environment."
"Great speaker/Very engaging and makes the presentation interesting bringing in stories and examples."
"Probably the best discussion on communication I've seen…excellent energy & practical suggestions I can put in place today. Thanks!"
"Very engaging speaker. Great presentation that inspires action, great topics for better managing email.  I love the opt out idea and default actions. I have never used either but will start today.  Meeting Takeaways-objectives not agenda-Quit when you're done-Only bring the people to the table who need to be there. PowerPoint 3 documents for 3 purposes-Will begin changing the culture one person at a time starting w/me."
"Great presentation. Very Practical tips!"
"This was great information that I can put into place right away! Excellent!"
"Engaging and gave practical and realistic goals for change.  Information provided in a concise and useable format- good speaker."
–Participants from Alan's presentation on "Why Modern Business Communication is Killing Productivity (and what you can do about it)."