The Importance of Facial Expressions in Public Speaking
When we ask participants in our workshop what characteristics define a boring or bad speaker, the list usually hasn't grown to three before some variant of "monotone" or "expressionless" is
mentioned.  Every listener in the world knows it's more interesting and more impactful when the speaker exhibits high levels of expression in their talk. Every listener knows the importance of facial expressions in public speaking.
But then put the same people that just identified this problem on stage and… they usually do exactly what they just said shouldn't be done.  One of the greatest reasons that we employ video in our classes is to get our participants to see how expressive (or, usually, NOT expressive) they are.  One of the most common comments after watching themselves is, "I thought I smiled more."  I feel their pain.  What little video I have of me B.T. (Before Training) shows a speaker who spoke in a monotone voice and rarely smiled.  I have good reason – I hate my smile.  My face contorts in a funny way and my eyebrow frequently shoots into a part of my face that eyebrows don't normally visit.  I think it looks dorky.
But unless you've built a brand around deadpan delivery (in my day, Steven Wright was the leader of the pack), your audience WANTS big expression.  It's more interesting to them.  They're more likely to listen to you.
Learning to express more is hard.  You have to fall in love with the process of self-evaluation and choose to practice skills and expression that feel over-the-top.  It's a conscious decision to put behaviors above feelings.
There's a reason you want to learn to use your facial expressions more:
It is the quickest and easiest way to change your voice. 
"You can hear a smile over the phone."  If you believe that – and most people do – then you believe that facial expressions change the voice.  It may feel weird, but the benefits to the audience are too great to ignore.
At a recent conference I spoke at, there was a photographer assigned to my breakout room.  As I usually do when an event asks to photograph me, I sign the release under the condition I could have access to the pictures.  As the photographer came in to introduce himself, I told him, "Get a picture of me without my eyebrow all funky." He laughed and assured me that he was quite capable of doing that. After the session, he remarked, "You make it hard!"  The collage of my facial expressions while I spoke shows he wasn't lying.  But these facial expressions — while I still don't love them – are very different from how I used to present.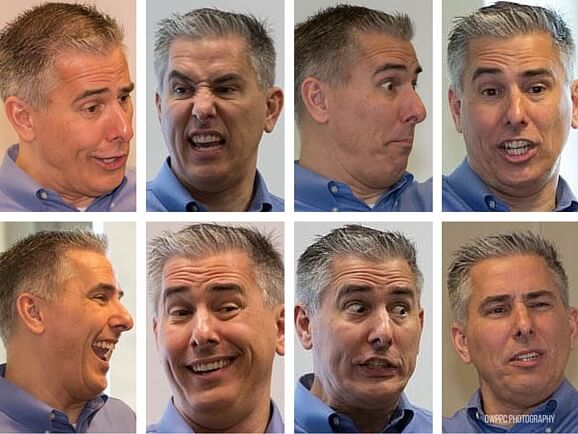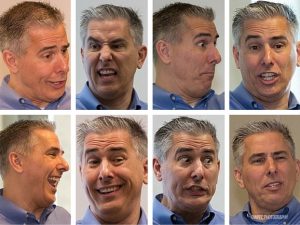 There is one caveat.  Your facial expressions must match your talk.  I was recently coaching a speaker whose personal story of triumph over tragedy was an inspirational masterpiece.  But he delivered the story of bad news with a smile on his face.  I was one of many that gave him the feedback that it caused an emotional dilemma for the audience. We were horrified to hear the details but confused to see him smiling as he talked of them.  Match the emotion you want your audience to feel to your facial expressions, and then make it big.  Bigger than you think it needs to be.
GETTING BETTER
Last year as I reviewed my year, I noticed a glaring problem.  While I train others to improve themselves and ask every day for them to invest in their future, I was spending precious little time doing it myself.  So I decided to make a commitment to change that.  In addition to making a new commitment to reading and processing new information.  I'm also attending a personal development workshop in Albany, NY in a few weeks.  It's based on the book Practice Perfect, a wonderful find with principles now woven into all our coaching exercises.  It's also the basis for some changes I've made in parenting, my own personal fitness plan, and how I get speakers to become their best.
We hope you notice the results in the way of some refreshing new content in our classes (well, you'd have to come to class again to see that it's new); more practical information in our newsletters, tweets, and blogs; and a better stage presence (I've created one new and one improved keynote this year already).
What do you need to improve in your business and life?  Are you modeling the change you want your clients and peers to experience?
Communication matters.  What are you saying?
This article was published in the June 2016 edition of our monthly speaking tips email, Communication Matters.  Have speaking tips like these delivered straight to your inbox every month. Sign up today and receive our FREE download, "Twelve Tips that will Save You from Making a Bad Presentation."  You can unsubscribe at any time.