I have been involved in coaching many a graduation speech and part of a few auditions to select such a speaker.  Even though the gender, major, skin tone, accent, and personalities differ, I was amazed at how similar the speeches sound.  Since I don't even remember who the student speaker was at my (college – I was the student speaker at my high school and I don't remember much more than my name from that) graduation, much less what they said, I'm tempted to say it doesn't matter.
Here's the TGS (Typical Graduation Speech).  If you're behind on your preparation, feel free to just steal and use it.  Don't forget to change the <insertion suggestions> to actual quotes or it just gets really awkward.
Thank you Dean <insert dean's name>, esteemed and credentialed faculty, staff, advisors, counselors, parents, grandparents, great grandparents, godparents, step-parents, brothers, sisters, cousins, aunts, uncles, second cousins, first cousins once-removed, friends, former friends, significant others, insignificant others, neighbors, community members, out-of-town guests, out-of-their-mind guests, and of course, our proud graduates.  I am so excited and happy and honored and thrilled and proud to be standing in front of you today with the privilege to address the greatest group of people I've ever been around.  I am sure that everyone here is proud of the many accomplishments of this awesome group of people.

 

Never in my wildest dreams did I think I'd be standing here when I came on campus as a young freshman four years ago.  I was scared, but I didn't let on.  I couldn't find my classes.  I wanted to quit.  But coming here and staying here was the best decision of my life. 

<Insert MLK Jr. quote>

It's been an eventful four – or five or six – years.  We set our minds to a common goal and we made it.  We've matured.  We have memories that we'll never forget.  We've had our struggles, faced our challenges.  Experienced loss.  Overcame.  Had tons of fun.  Learned a lot.  Seen a lot.  Heard a lot.  Smelled a lot.  Touched a lot.  Eaten a lot.   Paid the price.  Met the expectations.  Exceeded the expectations.  The stories I could tell, but I won't take the time to do that now.  But the tough road made us tougher.  And we had tough love from our tough professors.  And now we have come out on top, ready to face whatever lies ahead.

We were taught by the best, to be the best.  Who can forget <insert common teacher experience> or <insert common campus experience> or <insert biggest win over rival here>. Now we stand poised to leave our mark on the world, to solve real-world problems.  We can do anything.  From this group we'll have doctors, lawyers, teachers, entrepreneurs, and all sorts of successful people working for prestigious companies. 

<insert Steve Jobs quote>

There is nothing too big for us.  We're ready.

So let me leave you with this challenge.  Be you.  The best you you can be.  You're unique, just like everyone else.  Do your best.  Dream.  Leave your comfort zone.  Never doubt yourself.  Give back.  You deserve the best, because at the end of the day you are the best and have the best degree from the best university in the best country on the best planet.  You can do anything.  A better place awaits.  I'm confident we will all be the most best graduates that have graduated ever from all the best places ever. Because you are amazing individuals, and you've made me what I am today, and I couldn't have done it without you.

< insert Winston Churchill or hip rapper quote>

Congratulations, class of <insert year here>.  <insert school cheer here> (!)
Please don't give this graduation speech!! Instead, use the following tips: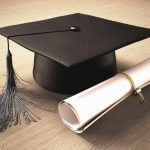 The Top Ten Tips for giving a graduation speech people will talk about for years to come.
1.  Keep the platitudes and greetings to a bare minimum.
Because of the formality of the event, I guess – maybe – a one-line greeting is OK.  I'd rather work them in later as part of the speech and story, but if you feel you must, thank the dean and move on.  One line or less.
2.  Tell a story
No one will remember you prattling on about facts and figures.  Tell a story instead.  Strive to be the person they'll remember in 30 years.
3.  Use humor
It's a big day with big emotions.  Make laughter one of them.  Find the funny parts of your stay on campus or perhaps a personal story that has a moral that applies to everyone.
4.  Extract a metaphor
Once you've told your story, find out what it means to the audience.  Apply it to their situation. Inspire. Challenge.
5.  Address each major audience group
You may feel the need to talk to your friends, the graduates.  But they are probably outnumbered by family and friends.  And the faculty had something – more than a little something – to do with you being there as well.  Acknowledge the groups with sincerity.
6.  Take the under
If you were given five minutes (a gracious plenty, remember we have to listen to a hundred, or a thousand, names after you are done), then finish in four minutes and change.  Don't run over.  Ever.
7.  Show a pulse
Don't say you are passionate, or happy, or thrilled without some visible emotion.  Don't be afraid to go big. This takes practice. It's never as big or crazy as you think it is.
8.  Be specific
This is probably the easiest way to fix any speech.  Avoid words that say nothing in particular, such as a lot, events, skills, problems, struggles, journey, stuff,… Expand on these words with examples.
9.  Don't hate
Graduation is not the time to bust on your rival (your dean may well have graduated from there, and some parents surely have) or another college (again, other people got different degrees and they're just as proud of them).  Be gracious.
10.  Practice AND rehearse
The microphone and large arena will sound very different from your shower. It's one thing to have it memorized (and I'd take notes to the lectern just in case).  It's another to sound great in a big space.  It takes practice.
Communication matters. What are you saying?
Want more speaking tips? Check out our free Resources page.
We can also help you with your speech with our Workshops or Personal Coaching.
This article was published in the May Edition of our monthly speaking tips email newsletter, Communication Matters. Have speaking tips like these delivered straight to your inbox every month. Sign up today to receive our newsletter and receive our FREE eBook, "Twelve Tips that will Save You from Making a Bad Presentation."  You can unsubscribe at any time.