PowerPoint templates can be a great help or they can create a challenge. As I write this, I'm on my way to speak at a national conference. Great opportunity to do a lot of good for a good cause.  It checks a lot of boxes for why I do what I do.  But checking boxes is required a lot by this client (my client is an insulator from the initiating client).  In particular, the speaker requirements as it relates to PowerPoint templates are onerous, arbitrary, and don't suit me at all.
As soon as I got the news I had been approved as a speaker, I headed out to the speaker resource page.  And there I was able to download the approved conference template and guidelines.  No worries.  I know how to take my content and use it with someone else's template. Within minutes, I had the two combined.  And immediately noticed a myriad of problems that would not work with my slides.
First, there were so many options.  They had two different color schemes you could choose from with two different styles.  There were seven (7!) different slide master styles (combinations of layout and color).  All told, I could choose from 45 different page formats for any particular slide.  That's a lot.  I usually use three (a main title slide, a section header, and content).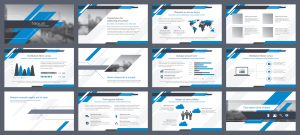 The template footer was… HUGE.  I measured.  It was exactly one-fifth (20%!) of the screen.  And it was the bottom 20% on a 16×9 (widescreen) template.  With the header in play taking up another 25%, almost half of the slide was the title and the footer.  I was left with a very wide, very white expanse to work with (the ratio of the content area was a whopping 3.82.  By comparison, your wide-screen TV is 1.78, so this space could put two TV screens side-by-side).  But I don't typically have material that is formatted that wide.  I prefer vertical space.
What to do?  Do I conform or make the PowerPoint templates work for my content?  I chose the latter, risking alienating the conference directors.  I edited the template and reduced the banner size to only 8% height (I wanted less, but it didn't look right.)
Another problem with the PowerPoint templates was the information they put in the banner.  They had the WiFi network and password, the Twitter hashtag, and two logos (the conference and the sponsor, neither of which I directly represent).  With apologies to the designer, if an audience member doesn't know the WiFi login at 3pm on Day 2 of the conference, they aren't likely to need it on slide 50 of my presentation.  I deleted it.  And the logos.  And added in my Twitter handle and nothing else.  I eliminated the page numbers – the audience does not need to know what slide I'm on.
After these changes, I looked at my imported content and most of it looked great.  I added slides that pertained only to this group (17 of my 58 slides were new to this presentation – I rarely use a previous slide deck without a change).  Some cursory proofing and I whisked it away to their portal.
My sponsor called.  Apparently, I didn't read all the directions.  They (strongly) suggested a limit of ten slides.  I had 58.  I was faced with a(nother) decision.
First, my non-conformist attitude had a gut reaction of "This is stupid.  What difference does the number of slides make?"  (A main reason I was never a fan of Pecha Kucha was the arbitrary adherence to slide number).  But I also had a keynote speech for a paying client with a guideline.  And they're supposed to always be right.  Turns out their ten-slide mandate was for their people, not external folks, and I got off on that technicality.  BUT… I had to add their hashtag to my reduced footer.  I gave in and everyone was happy.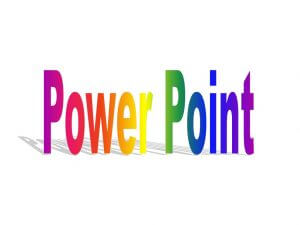 Regarding the number of slides in your PowerPoint templates:
The number of slides you use is not an issue to the audience. How you use slides is of great interest to your audience.  Make the content matter.  And NEVER (ever!) read your slides.  Whenever you run across an arbitrary guideline, ask yourself Why? (my first trainer class suggested two minutes per slide.  Why?  There was never a reason, and I never adopted the "guideline".)
If your audience knows how many slides you have (or have shown), they are likely to be gauging your progress, and by implication, the end. I want my audience thinking about the content, not the end.  Drop your slide numbers (exception: when your slides will be reviewed or referred to later)
And did we mention… NEVER read your slides!
On a mission to rid the world of horrible presentations (which includes horrible PowerPoint)…
How can you change your slides (or eliminate them?!) to be a more effective presenter?
Communication matters. What are you saying?
Want more speaking tips? Check out our Free Resources page.
We can also help you with your speech with our Workshops or Personal Coaching.
This article was published in the February edition of our monthly speaking tips email newsletter, Communication Matters. Have speaking tips like these delivered straight to your inbox every month. Sign up today to receive our newsletter and receive our FREE eBook, "Twelve Tips that will Save You from Making a Bad Presentation."  You can unsubscribe at any time.