We're all in need of online meeting tips since 2020 brought us Covid19. On March 5th, 2020, I spoke at a banquet in north Georgia. On the sixth, I flew from Atlanta to Orlando to see my parents for a few days. I flew home March 9th…and haven't left the state since. I've lost count on the number of events that have been canceled or postponed indefinitely. Initially, it looked like the speaking and speaker training business was going to be a bad career decision. Then the sun came up the next day… and the next. And people realized they still had to go on with life, running meetings, selling products, informing clients, teaching classes, and just connecting with other humans. Business is busier than ever, but the vast majority of our client interactions have transitioned online through Zoom (and Teams, Google Meet, Skype, etc.).  
We've adapted some of our more popular course content into online versions: Storytelling, Visuals, Crafting content, and especially Presenting for the Online World have been popular requests. Many clients have taken the change of pace to ask for personal coaching. We've coached proposal pitches that were moved to an online environment. We've had team training with people in no fewer than six time zones at the same time.
While the principles of communication don't change based on circumstance, the execution and logistics sure do. So much has changed, but one thing has not changed.
Good communication is still about making it easy for your audience to consume and remember your material and giving them value for their time.  
Here are a few thoughts about what is different online, and what you can do about it, based on some of the more common mistakes I see on a daily basis: 
Live talking-head video is not as engaging as a real person
When speaking in person, you can pick up on facial expressions, move to capture attention, invite side conversations and take ad hoc feedback easily. In person, your own expressions are easily seen, you are much more approachable, and the ability to break in conversationally is far easier. But you're now reduced to a 2" x 3" (or smaller!) image. Your audience may not even bother to share a picture of themselves.  It is more critical than ever to have a voice worth listening to and amp up those facial expressions. Find and seek out ways to solicit feedback and involve your audience.
Attention spans are not as great online
When content is coming from a talking head on a computer screen, there are a lot more chances for distractions. The pop-up alert to an incoming email. The temptation to look at your phone that would not happen in a live setting with the speaker standing a few feet from you. The stray thought to check on that product you saw yesterday. A quick email query to a colleague. And you can do all of that while "paying attention" to the speaker. Only you can't. You've diverted your attention. And the speaker likely won't ever know.
The challenge for the online communicator is to grab – and keep – the audience's attention when you do not have the luxury to read them or even know for sure if they're listening. Does the mute icon mean they are being polite to omit background noise or that they don't intend to speak? Does the stoppage of video mean they recognize their dog would be a distraction or that they stepped away from their computer?
Where a 40-minute keynote from a single voice in person might be acceptable, it should be prosecuted as cruel and unusual punishment online. Something needs to change every few minutes. The visual. A camera angle. An activity. A shared doc. Breakout rooms. SOMETHING. Don't assume you can just sit and talk and people will listen.
And by all means, END ON TIME (or early!).
Match your quality to your brand
If we're going to communicate well remotely only through a small picture and sound, then our picture and sound need to be good. A decent webcam can be had for $25. A really nice one (HD) for $75. I bought a capture device for under $100 and use a camcorder or high-quality DSLR. The difference is notable. Except when you have no choice (while travelling, and even then I pack my webcam and a portable light), don't use your onboard laptop webcam and microphone and don't use a handheld device (mount your phone or tablet head high if you must use it).
Here are three online meeting tips you can do for very little money to improve your online presence:
1. Clean up your background
Your environment can still be a mess, but what the audience sees needs to be professional. I hesitate to show you my cozy (and messy) office setup in the main picture on this post, but I'll risk it to show you how easy it is to clean up your background online.
I built a neutral backdrop using cheap lumber from my home improvement store, a bedsheet I bought from Target, and a staple gun. Total cost per screen: less than $25. I throw LED lighting (color controllable!) to the backdrop and all the audience sees is a clean image of me with no distractions. No wondering what is on the poster behind me. No ceiling fans whirring. No dogs or people roaming behind me.
A green screen can be obtained for under $20. I hang mine from the ceiling. When my normal backdrop won't do or I'd like to theme my background, I switch to a green screen. Zoom (and other software) can pull your image out without a green screen, but it's far more accurate when there is the stark contrast. Coupled with good lighting (below), you won't look nearly as much like a cardboard cutout.
2. Improve your lighting
Video and photography requires one thing: light. Don't set up in front of a window or light. Put the light in front of you. Natural diffused light is best (don't sit in the sun).  But more is generally better. I bought two wall-mounted LED lights and remote control outlets so I can turn them off and on from my chair. But a cheap lamp can work just as well. Play with your lighting. A dark, expressionless face or silhouette is not helping your communication. Light up the presenter!  (and smile!)
3. Improve your sound
This is probably the most expensive option in this article. But it also makes the biggest difference. I've got a USB mic ($120+) that is amazing, but my $35 headset is not far behind, and my cheap lapel mic is adequate. I've tried no fewer than seven mics, including a Zoom H2 recorder, Rode shotgun mic, and the camera's onboard audio. Don't discount your phone as an audio source. It has the best microphone you can afford, and you likely have a headset that works with it already. All of these options are SIGNIFICANTLY better than the onboard mic on your laptop or your webcam.
If you're going to be doing business and building your brand online, it's worth doing it right. Make improvements to your online world and you'll improve the results and garner more opportunity in this virtual world we now live in.
And remember: a meeting or presentation that was going to be bad in person will only be worse online!
This week I again fly back to Florida, speaking at a (live!) conference (that also has an online component for which I taped my presentations). It will be a welcome return to the stage, to live (masked) humans, and to see four walls that aren't so familiar. But I'm grateful for the lessons learned the last six months and the experience of being forced to adapt. You can still be a great presenter in an online world. But like being a great presenter in the live world, it takes hard work and attention to detail.
I hope you've enjoyed these online meeting tips. For more online meeting tips, download our Guide to Virtual Communication and Meetings for FREE!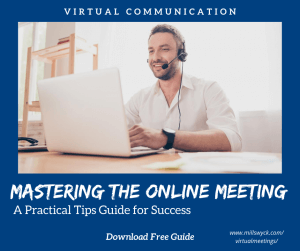 Communication matters. What are you saying?
Want more speaking tips? Check out our Free Resources page.
We can also help you with your communication and speaking skills with our Workshops or Personal Coaching.
This article was published in the September edition of our monthly speaking tips email newsletter, Communication Matters. Have speaking tips like these delivered straight to your inbox every month. Sign up today to receive our newsletter and receive our FREE eBook, "Twelve Tips that will Save You from Making a Bad Presentation."  You can unsubscribe at any time.