I was recently an invited breakout speaker to an organizational learning event.  They had devoted a full day for their 1500+ people to attend dozens of breakouts across a full day and most of a college campus.  I was given two slots for the same speaking topic.  Since this was an out-of-town event, I was unable to see the venue prior to arrival on the day of the program.  I was told I had approximately 30 people in each of my sessions.  A few days before the event I found out that I had mixed up this event with another and had half the time I thought I had.  I made some adjustments to my content.
When I checked in at the speaker table, one of my session times was incorrect.  I had requested my later session be moved to accommodate my travel plans (they had scheduled it for after I needed to leave to catch my plane).  The organizer remembered the request and promised to change the signage, but assured me the change was made.  I had the morning to take in other speakers, make a client coaching call, and grab some lunch.  Then it was show time.
When I arrived at my (re)scheduled session just after lunch, another presenter was set up in the room (and his name was on the schedule outside the door).  We checked the online program, and sure enough, I was in the right place.  But no one had told him. He was quite gracious, and quickly moved to accommodate my session.  He even stayed to listen since his time had freed up.  

Apparently, the people planning to attend my session also didn't get the memo on the time change, as only seven people showed up.  

The altered time slot and lively discussion caused my session to run longer than I had planned, so I was forced to skip some things towards the end.  

My second session was immediately after the first, so I sprinted (that's a little editorial embellishment – I don't sprint anymore.  But it was raining, so I walked really fast) to my second session.  

I had scouted the room in the morning and discovered that the large room had no laptop connection at the stage.  I inquired and was told they'd have me a connection "at the front".  When I arrived (about six minutes before my session was to start), the "at-the-front" connection was in the corner of the room, about 60 feet from the stage and behind me.  I was unable to see my computer (where I normally have my notes), and my only control of the computer and slides was via remote. 

When I walked on stage, I found out that my remote's range was at its limit: I could only get my clicker to work on the side of the stage closest to my computer.  We also had about 60 people show up, but the room seated 300.  

The room's lights were mostly off, creating a very dark room.  When I asked to have them turned on, the videographer (who I did not know was taping) said that would upset his settings.
These are normal occurrences on the conference speaker circuit.  Details get overlooked, expectations are frequently misrepresented, and logistics are mixed up in a sea of details.  But no matter what's happening behind the scenes, the speaker is the one on display.  And the audience really doesn't care what hoops you jumped through and what stresses you are under. They want the content, delivered exceptionally, in an entertaining manner that breaks the monotony of sitting and listening to people all day.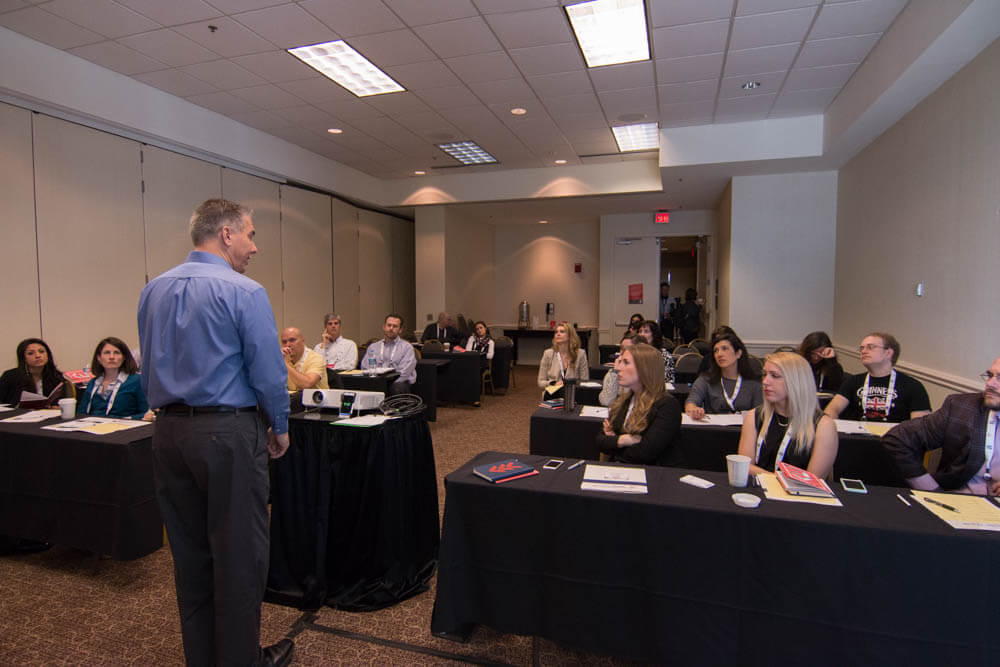 Here's how I handled my day, in order.  Of particular note, the audience was never told of the issues I faced.
For the rescheduled and underattended first session… Since we were in a small classroom, we were able to have some great facilitated discussion with audience involvement. I got to know several of the attendees' personal situations and worked them into the discussion.

When time ran short, I used our SpeakerGrid methodology to make real time adjustments, reached over and used my touchscreen laptop to skip to the appropriate visuals. The audience didn't know they missed anything.

In the big room, I asked the attendees to sit in the middle section to create a denser group and allow me to include them in my scan easier.

I quickly hid some slides to reduce the time my presentation would need to have visuals displayed.

I asked a friend to be on alert to advance my slides manually if the clicker didn't work.

I brought up a version of my slides on my phone and put on the lectern on stage so I could know what was coming next.  I broke out some analog notes.

Once I discovered that my remote only worked on one side of the stage, I worked movement into my presentation to always be on that side of the stage when I needed to advance the slides.  
My anxiety and frustration grew throughout the day.  I would not rate the presentations among my best.  But my training and preparation allowed me to make the best of the situation and I'm sure that few in the audience knew much about what was going on inside my mind.  Here are three principles that are good to have worked out mentally before you take the stage, lest the moment get the best of you and the audience realizes that you are in over your head.  
Never rely on technology.


If you believe that your presentation won't work without your slides, a mic, a movie or sound clip, or a light show, then you are a battery or a broken wire away from being irrelevant.  Create your message completely before you introduce visuals or other technology.  When all the equipment works, it's wonderful.  But if the power completely goes out, you should still have a message to share and be able to deliver it without a hitch.

Make it work for you.
When circumstances are not what you expect, as much as you can, alter them to work for you.  Chairs, audience members, lecterns, lights, and tables can all be moved.  Typically, it's easier to get forgiveness than permission.  Arrive early and change what needs to be changed.
Don't make excuses.
You are the reason the people are in the room.  Be the professional.  Most of the issues that occur are known only to the speaker.  It's usually best to keep it that way.
While I don't enjoy surprises that negatively affect the quality of my work, I am grateful to have the training and experience that allow me to navigate the uncertain world of the stage.  
Communication matters. What are you saying?
Want more speaking tips? Check out our Free Resources page and our YouTube channel.
We can also help you with your communication and speaking skills with our Workshops or Personal Coaching.
This article was published in the October edition of our monthly speaking tips email newsletter, Communication Matters. Have speaking tips like these delivered straight to your inbox every month. Sign up today to receive our newsletter and receive our FREE eBook, "Twelve Tips that will Save You from Making a Bad Presentation."  You can unsubscribe at any time.